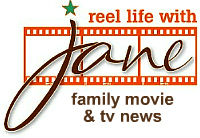 We're so excited to feature weekly family movie reviews from REEL LIFE WITH JANE!!
Entertainment writer Jane Boursaw's work is published by hundreds of newspapers, magazines and web sites, including Family Circle, Ladies' Home Journal, Woman's Day, USA Weekend, Parade, Christian Science Monitor, New York Times, Variety, People Magazine, Common Sense Media, Emmy Magazine, Disney.com, and FlipBoard/iPad.
As a mom of two, Jane knows the importance of making good choices for kids, which is why her reviews include details on profanity, violence, sex/nudity, and drug/alcohol content. As an editor for AOL's TVSquad.com, staff writer for Popeater.com and Moviefone.com, and family movie critic for Kaboose.com and iVillage.com, Jane is a trusted resource for trend pieces, newsy entertainment stories, fun interviews, and thoughtful op-eds.
JANE'S REEL RATING SYSTEM:
One Reel – Even the Force can't save it.
Two Reels – Coulda been a contender
Three Reels – Something to talk about.
Four Reels – You want the truth? Great flick!
Five Reels – Wow! The stuff dreams are made of.
Jane Boursaw is a family entertainment writer specializing in movies and TV. Visit her at Reel Life With Jane; follow her on Twitter; become a friend on Facebook; email jboursaw@charter.net.
For more reviews from Jane, feel free to visit her online magazine and blog through the link below.
http://www.reellifewithjane.com/blog