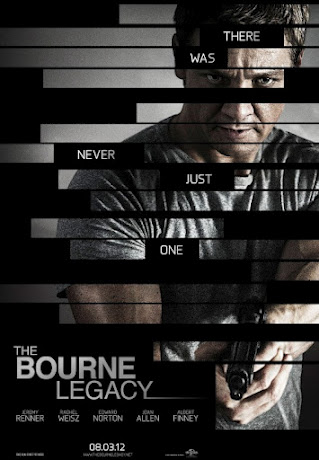 THE BOURNE LEGACY - Movie Review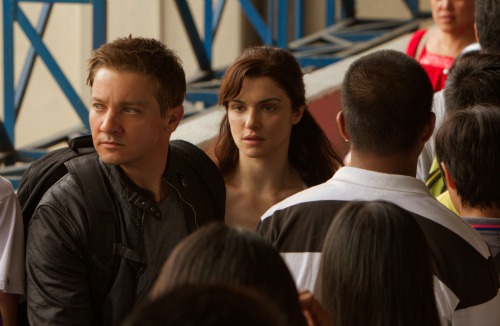 by Jane Louise Boursaw
Reel Rating: 4 out of 5 Reels
MPAA Rating: PG-13 for violence and action sequences
Released in Theaters: Aug. 10, 2012
Genre: Action, Adventure, Thriller, Sequel
Runtime: 135 minutes
Directed by: Tony Gilroy
Cast: Jeremy Renner, Rachel Weisz, Edward Norton, Scott Glenn, Stacy Keach, Zeljko Ivanek, David Strathairn
Official Site: http://www.thebournelegacy.net/
SYNOPSIS: This fourth movie in the Bourne franchise stars Jeremy Renner as Aaron Cross, a superhuman government agent who goes rogue as he finds himself in a life-and-death situation that links back to the events of the previous three films.
Sex/Nudity: The main characters, Aaron Cross and Dr. Marta Shearing (Rachel Weisz), share a connection and some chemistry, but there's no romance or even kissing.
Violence/Gore: Cross and Shearing are in constant peril as they're hunted across two continents, including being chased on foot and motorcycle. Action includes crashes and explosions. Fight scenes include handguns, rifles, fist-fights, neck-snapping, and face-bashing. A main character is shot.
Profanity: Includes "sh*t," "damn," "goddamn," "hell," and "oh my God."
Drugs/Alcohol: Adults drink socially.
Which Kids Will Like It? Kids 14 and older who've read the books by Robert Ludlum or who liked the other three Bourne films, action thrillers, or films starring Jeremy Renner.
Will Parents Like It? The action is a little intense for a PG-13 rating, but overall, the movie is well done and a fun thrill ride.
REVIEW: I've decided that I'd make a good spy. I'm good at creating diversions. I can ride a motorcycle through traffic. I have a distrust of authority figures. I can blend into a crowd when necessary. And I've watched enough spy movies and shows like 24 and Homeland to know how surveillance cameras work. Yeah, if they need a female action hero for the next Bourne movie, I'm their girl.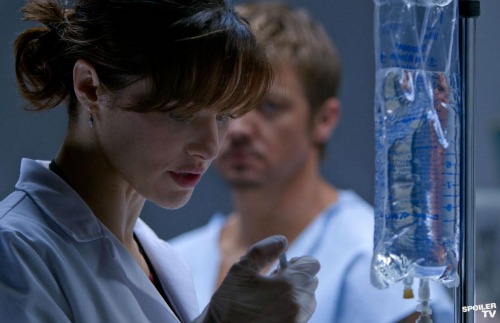 But until they snap me up for that role, let's take a look at The Bourne Legacy. This fourth movie in the franchise stars Jeremy Renner as Aaron Cross, an agent in "the program" who's trekking through the Alaskan wilderness preparing for his next mission. Being alone in the wild gives him ample opportunity to ponder his life, but we also see him taking mysterious pills, climbing steep cliffs, leaping across ravines, and expertly using his high-powered rifle. Clearly, this is not just another hiker seeking solace in the wilderness. He eventually reaches his destination, a remote cabin with another agent in the program who's not all that willing to share information.
Meanwhile, Jason Bourne has been spotted in New York. While we see photos of Matt Damon, who played that character in the previous three movies, he never shows up here in the flesh. As journalists start delving into the elaborate maze of the government's top-secret programs, the people in charge, led by Eric Byer (Edward Norton) consider pulling the plug on the entire operation.
Even in the wilds of Alaska, this becomes apparent to Cross, who determines that his only chance for survival is to disengage himself from the agency. To do that, however, he'll need specialized meds, and only one person can help with that – Dr. Marta Shearing (Rachel Weisz), who's now a target herself.
When it was announced that Matt Damon would not be returning to his Jason Bourne role for this movie, many wondered if the franchise would survive. The Bourne Legacy not only survives, but carries the torch into a new chapter of this story. Jeremy Renner is a great action star and rogue character, and he also has great chemistry with Rachel Weisz. This movie also has enough references to the previous films to satisfy fans, while at the same time, move the story forward. That said, it's not a bad idea to re-visit those films before seeing this one.
If I have one complaint with The Bourne Legacy, it's that it's too much of a bridge to the next film, without a lot of plot attached to it. The non-stop action offers plenty of thrills, but we don't really get a sense of who Aaron Scott is, why or how the media has glommed onto information about the program, and why the agency is so keen to ditch the entire program altogether, rather than take steps to deflect interest.
I'm hoping that the next movie (because I'm sure this franchise will go on indefinitely) will pair up Renner and Damon, get a little more into the nitty-gritty of the program, and balance out the action with a more intriguing storyline. There's certainly plenty to be mined in the way of homeland security, surveillance tactics, government conspiracies and rogue agents, especially when you've got a knock-out cast like David Strathairn, Edward Norton, Stacy Keach, Scott Glenn, Zeljko Ivanek, Albert Finney and Joan Allen.
JANE'S REEL RATING SYSTEM:
One Reel – Even the Force can't save it.
Two Reels – Coulda been a contender
Three Reels – Something to talk about.
Four Reels – You want the truth? Great flick!
Five Reels – Wow! The stuff dreams are made of.
Jane Boursaw is a family entertainment writer specializing in movies and TV. Visit her at Reel Life With Jane; follow her on Twitter; become a friend on Facebook; email jboursaw@charter.net.