Business Directory
The Friends Learning Center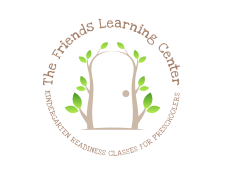 FALL CLASSES BEGIN SEPTEMBER  13, 2022. VISIT OUR WEBSITE TO REGISTER FOR CLASSES.
The Friends Learning Center offers weekly kindergarten readiness classes for preschool children ages 4 and 5 years old.  Our classes are designed to foster readiness skills that will help prepare your child with a strong foundation to support their entry into kindergarten and subsequent primary school years. These classes are a great way to supplement your child's current preschool or homeschooling program. Our classes are a great fit for students that could benefit from smaller individualized group instruction, need additional support to help solidify those kindergarten readiness skills, or are just looking to add more academics to their half-day preschool program. 
The Friends Learning Center's classes are each one hour long, and have a limit of 5 students per class, allowing individualized attention for each student in the class. Our classes are all creative, instructional, interactive, and incorporate hands-on learning. But the best part about all our classes is that they are FUN! They follow a multi- learning approach incorporating visual, auditory and kinesthetic learning styles to meet the needs of all students. All our hands-on classes are a "learn by doing" environment, meaning your child will gain new skills by doing, and engaging with, the targeted subject. Studies have supported that hands-on learning provides many positive outcomes such as strong student engagement, increased content retention, and improved problem solving and critical thinking skills.  
Our Classes
Story Explorers:
Come along and read a book with us! We will have fun diving into a new book each class. Bring your exploring skills (maybe even your detective skills) as well as learn all about the components of reading from inferential and auditory skills to retelling and comprehension skills. You may even meet a new letter friend or two!
ABC Factory:
Calling all letter fanatics! You will become a letter extraordinaire learning all letters A to Z.  You will meet all the letters of the alphabet at our letter factory. So put on your thinking hats because it's time to learn all the alphabet names and sounds at our ABC Factory. 
Get Ready to Read:
Let's get ready to R E A D! This class is for all my friends that have a strong foundation in letters and letter sounds. Come join us as we jump to the next step on this exciting journey of learning to read. From word families and rhymes, you are destined to have a rhyming good time! 
Numbers 101:
Calling all my mathematicians!  Ready…5…4…3…2…1 blast off! Come join us as we blast off into numbers and counting. You will be a math wizard exploring all things numbers. 
Our Schedule:
| | | |
| --- | --- | --- |
| | Tuesday | Thursday |
| 9:30-10:30 | Story Explorers | ABC Factory |
| 11:00-12:00 | ABC Factory | Story Explorers |
| 1:00-2:00 | Number 101 | Get Ready To Read |
| 2:30-3:30 | Get Ready To Read | Numbers 101 |
Categories:
Childcare/Education/Nursery Schools, Educational & Enrichment Programs, Tutoring