Business Directory
ST. THOMAS MORE SCHOOL
Experience Summer@STM!
The summer programs at St. Thomas More School combine academics, study skills, athletics, and summer recreational activities, because we know that you can have a fun and memorable summer and be in a better position to achieve your goals when you return to school in the fall.
We offer a number of different programs to ensure an age appropriate experience that maximizes your time, effort and results. 
Whether you are a middle school student preparing for high school, a high school student who wants to get a head start on your course work for the fall, a high school student who needs to retake an important class, or an international student who wants to focus on your English skills and experience a traditional "American" summer, we have a program that fits your needs.
 
Our formula for success in the summer is much the same as in our regular session: great teachers, individualized attention, small classes, challenging and fun athletics and extracurricular activities in a 100% boarding environment.
Please contact us by email at summer@stmct.org or phone 860-823-3861 if you have any additional questions about Summer@STM.  We hope to see you on campus!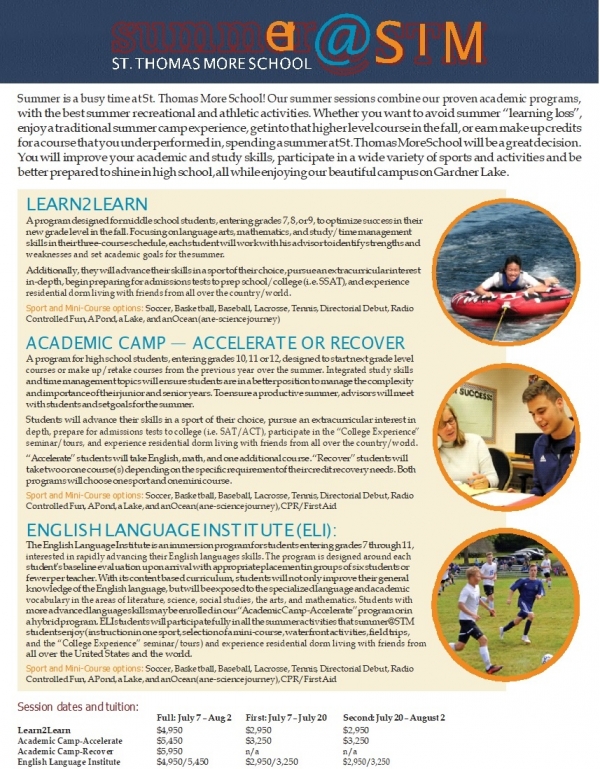 Categories:
Activities & Entertainment, Educational & Enrichment Programs, Independent Schools, Private Schools, Summer Camps