Business Directory
Keating Insurance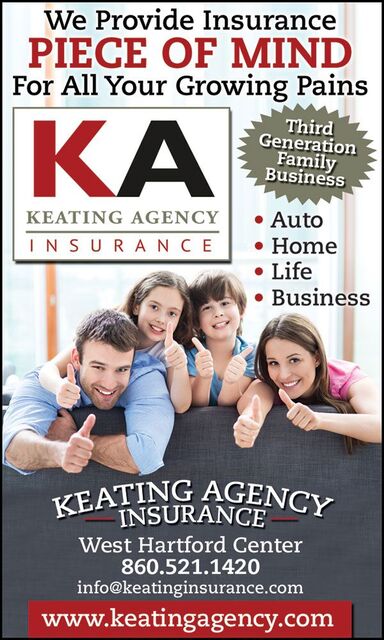 Our agency tries to focus on the Ease of Doing Business by offering you many different ways to do your research, ask questions and get quotes by:
Offering online tools 24/7 so you can get what you want, when you want it and how you want it (mobile, tablet or desktop). Need something added, just Contact Us and we'll see what we can do!
An active Insurance Blog that deals with today's marketplace, issues going on in West Hartford, Farmington Valley, Avon, Burlington, Simsbury, Bloomfield, Newington, Hartford county, Farmington, Unionville and throughout central Connecticut and even Nationally if it impacts our products and services.
A local office staffed with folks who live where you live and understand the issues facing Connecticut consumers and businesses.
A dedicated service team to provide one and done seamless processing among our 25+ carriers on your behalf. We emphasize excellent customer service to our team, so our agents are always happy to answer your questions and meet your needs quickly and efficiently.
Decades of insurance expertise that will be uncover your needs and research your options so you get the best insurance value for your unique plan.
You can do as much as you want on your own or you can reach out to us through our website, social media channels, email or with a phone call.
We are willing and capable to guide you through the complicated waters of personal or business. We extend an invitation to Contact Us to see how we can protect your financial, personal and/or business future!
Categories:
Business Opportunities, Home Resources, Just for Dad, Just for Mom, Legal / Financial / Insurance.