Business Directory
HVWS Summer Camp
HVWS Summer Camp is a day camp for children ages 3-14. Offering two groups—Explorers for 3- to 8-year-olds and Artists for 8- to 14-year-olds—HVWS Summer Camp is the perfect place for natural and exciting summer fun! Led by caring and talented educators, HVWS Summer Camp invites children to enjoy the summer through participating in a variety of activities.
Our Explorers will play with water and mud; participate in group games; enjoy organic gardening, cooking and snacks; and make arts and crafts related to the theme of the week using natural materials such as wool, beeswax, silk, wood, etc. We follow a simple daily rhythm that provides the campers with a sense of trust and ease while they explore nature, make new friends, and learn new skills.
Our Artists are more capable of challenging themselves physically and socially. Our goal is to provide opportunities that meet our older campers developmentally in a safe, natural environment. Our Artists will learn specific skills such as theater improvisation, shelter and vehicle building, wilderness survival, musical instrument construction and playing, archery, and circus arts.
The Summer Camp day runs from 9 AM to 3 PM. We provide an organic, allergen-free, non-GMO snack and campers bring their own lunch daily. For more information about Summer Camp, please e-mail Summer Camp Director, Marcela Perez, at camp@waldorfct.org.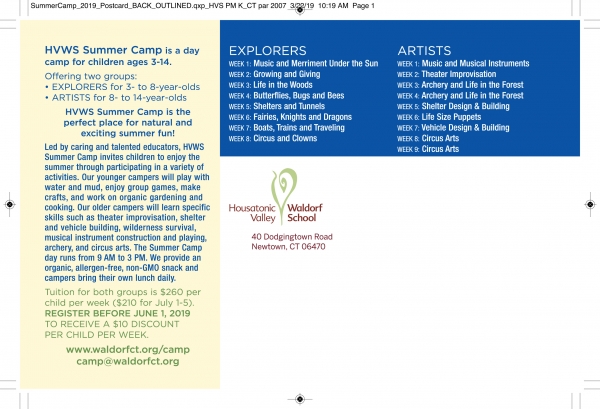 Categories:
Educational & Enrichment Programs, Summer Camps, Summer Family Fun