BLOG
July 23, 2020
A Home Office Setup The Whole Family Can Use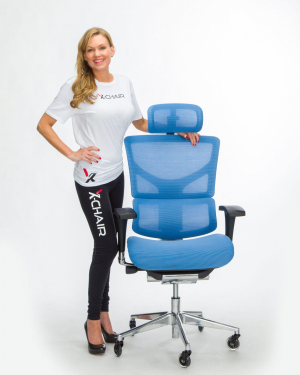 As families continue to navigate the impacts of the COVID pandemic, there's one thing most families have in common: they have been at home, sheltering in place, self-isolating or quarantining…children have had to adjust to learning virtually, leaving many parents with taking on the role of "teacher," entertainer and more – all while continuing to run a household and complete their own work from home.
With no foreseeable end in sight, it's important we all learn how to live (or re-live) with family members and find new ways to forge ahead, adapting to the "new normal." While some children will return to school in the Fall, countless kiddos will continue remote, distanced learning or even a hybrid of both – making it essential to have a comfortable home office the whole family can use.
With this in mind, we've tested and reviewed three products sure to not only upgrade the family's in-home workspace, but increase productivity. 
1.    X-Yoyo Active Stool – need more support in your less than traditional work-space? Meet the X-Yoyo...Renowned Norwegian industrial designer Svein Asbjørnsen developed the breakthrough Floating Pitch™ mechanism in order to enable users to effortlessly float their spine into its natural posture, thereby increasing blood flow and reducing muscle fatigue. The best part, it allows users to transition from sitting to standing, seamlessly and comfortably, throughout the day. The active stool also offers a height adjustment range making it perfect for parents and kids alike, as well as an auto-return Ergo-Saddle™, so you can easily use the X-Yoyo at any workstation, be it a traditional desk, height adjustable table of makeshift workstation. It's also incredibly simple and intuitive due to the 360° swivel, tilting and auto-return. Active seating has been proven to increase concentration and productivity, encouraging free movement. We found it both stimulating and relaxing, and we hope you'll give it a try.
2.    X-FlexTop Adjustable Standing Desk – one to two hours per day is the optimal amount of time to work while standing, and the X-FlexTop Adjustable Standing Desk rises to the occasion and helps the entire family achieve this goal. You can also use the X-FlexTop to change your desk height, making sure your monitor or laptop are at a comfortable height when sitting in your X-Chair or X-Yoyo active stool, which is key for sharing your WFH space with your kids, big or small. We must mention, it's easy to adjust, very sturdy, portable and discrete, has a sleek, stylish yet minimal design and comes in both black and white. Constant movement is one of the key factors to staying comfortable, productive and happy, and it also promotes a healthy, active lifestyle, thus making this product a must-have for the family's home office.
3.    X-TS Monitor Arm – if you're looking to instantly increase the usable surface space on your desk, this is the product for you! Immediately upon using the X-TS Monitor Arm, we noticed an instant improvement in our posture as well – having the monitor elevated and being able to adjust the screen to eye-level provides an ergonomic workspace, and is especially important for protecting children from future back or vision problems. The X-TS Monitor Arm was designed to make life easy and productive, and it delivers. Creating an organized and healthy work environment for your family doesn't have to require an ergonomist and a handyman…In 10 minutes or less, YOU will be able to set up your new X-TS arm and be back to work with more space on your desk and a level of comfort previously unimaginable.
Over the past few months, we've all observed how chaotic and distracting the reality of working from home has become. This is the time to shift gears, change direction, and invest in creating a quality home office the whole family can use, and ergonomically designed products, such as the items outlined here, can pay health dividends for many years to come!

For more information or to purchase these products, please visit www.xchair.com.
BACK TO BLOG