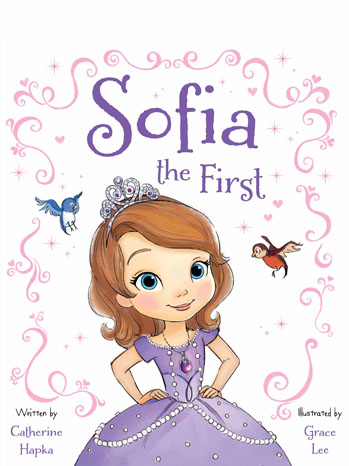 Sofia The First, Written by Cathy Hapka, Illustrated by Grace Lee, 40 Pages, Ages 3-8
A young commoner dreams of becoming a princess – and then one day, after her mother marries the king, her wish comes true!  What young girl hasn't pretended she has been magically transformed into royalty, suddenly transported to live in a lavish palace, and dance at a crowned ball?  A perfect premise for a story – and at Number 10 on this week's NY Times Bestseller list, Sofia the First, written by Catherine Hapka and illustrated by Grace Lee, seemed like a wonderful – and identifiable – idea for a picture book.  Yet, somehow, both the plot and the writing seemed contrived – and then upon further digging, I discovered that Sofia the First is actually a Disney Junior animated series.  Not quite up to date on Disney Junior programming, I learned the show premiered in January and tells the story of Sofia, who – after her mother marries King Roland of Enchancia – becomes a princess.  Sounds magical, except Sofia feels rather unprincess worthy – and being that it's a Disney production, along comes a variety of Princesses and Fairy Godmothers to help out  - Sleeping Beauty's Fauna, Flora and Merryweather among others – and soon, Sofia is on her way to learning the basics of good 'princessing'.
Thus is the recap of the book of Sofia the First.  It's basically an accompaniment to the show, published by Disney Press.   Even so – and regardless of whether watch the Disney show – young girls (ages 3 – 8) will adore the story. The illustrations are quite lively and enjoyable and the Sofia's overnight transformation is enchanting.  The writing, however, seemed forced – truthfully, at first (and not knowing the show) when Sofia is unsure of her new relationship within the family and with her new step sisters and father, it almost seems as the book will tackle tough subjects like blended families and a young child's insecurities about not being good enough.  But these are then just glossed over, and soon there is the usual dose of magical fairy godmothers, spells gone wrong, and the token mean stepsister (who in the end becomes her close friend). Adults will probably find the book empty; children however, will undoubtedly love it – especially if they are more up to date on Disney channel shows and are familiar with the characters and plot line.  (The show has already been picked up for a second season and Sofia the First toys are hard to find.)  And truthfully, no matter how basic and almost cheesy the story, ultimately, like all good Disney princess stories, Sofia the First does remind young girls to always believe in themselves. That alone is worth the read.