Business Directory
Westport Country Playhouse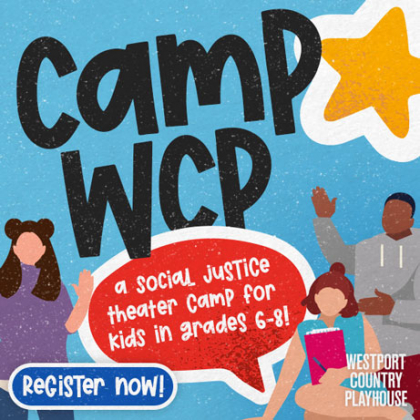 Inspire. Create. Activate.
A summer theater intensive experience for kids who love putting on a show and inspiring others.  Whether they've participated in theater programs, are curious about the power of storytelling, or they are the kid who is passionate about organizing the neighborhood behind a worthy cause, CampWCP is for them; four weeks with a focus, a goal, and the chance to meet artists and community leaders.
Now in its second year, we hope that CampWCP empowers young artists to activate their creative voice — so that they can ignite social change for their community and beyond.


THE DETAILS
At CampWCP, young folx are encouraged to use their voice on issues that matter to them and turn it into something theatrical — with a little help from the Playhouse.
Middle school students will explore the art of playwriting and devise their own play. Guided by a professional Theater for Young Audiences playwright, the young artists will collectively create stories together and perform their original play at the Playhouse for an invited audience of family and friends. Upon graduation, campers will receive a bound copy of their piece, just like the plays published for Broadway.
Campers will also learn acting techniques from Playhouse Director of Education Jenny Nelson and how to be a student activist from local community activists. They will also have the opportunity to participate in workshops with Playhouse staff and invited guests. Past workshops have covered movement and language, character building, and theatrical poster design.
All activities take place on the campus of Westport Country Playhouse in Westport, CT. All campers are required to be fully vaccinated against COVID-19 and provide proof of vaccination prior to the start of camp. Physical distancing measures, health protocols and masking may be required based on current CT Office of Early Childhood (OEC) and local guidelines. CampWCP is licensed by the CT Office of Early Childhood (OEC).
For more information, email education@westportplayhouse.org.
Categories:
Activities & Entertainment, Music/Drama, Summer Camps