Business Directory
Camp Clio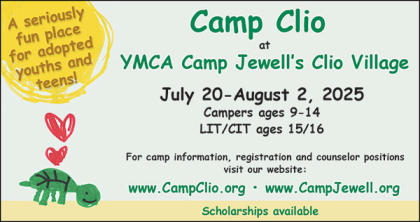 The mission of Camp Clio is to provide services to adopted children, their families, and those whose lives are touched by adoption — to help them explore the unique challenges that adopted children face. A summer camp where adopted children can share and explore their adoption stories with other adopted children, Camp Clio provides a safe, non-judgmental, and fun environment.
Adopted and non-adopted kids attending both Camp Claire and Camp Clio share the 11 acres on Hamburg Cove, engaging in traditional camp activities. Camp Clio kids have the opportunity to explore adoption in small cabin-sized groups with trained counselors and staff who are adopted themselves.  Because attachment is such a large issue, especially for those who are younger, campers may elect to be day or sleep-away campers. Day campers attend from 8 am - 8:30 pm. For those families who wish to make Camp Clio a vacation experience, vacation guides to the area are listed in the family vacation section of the website. Younger, older and non-adopted siblings ages 7-14 may also attend Camp Claire.
All Camp Clio kids enjoy:
canoeing
swimming
campfires
games
and the good old-fashioned fun of summer camp with the kids at Camp Claire.
Categories:
Activities & Entertainment, Make-a-Difference, Summer Camps, Summer Family Fun